We spent days researching and investigating refrigerators. Our top pick, the GE GNE27JSMSS, will keep your food fresh—and minimize harm to the climate—for years to come.
This is a great, energy-efficient French-door refrigerator, the most popular style right now. Those manufactured starting in January 2020 will use the climate-friendly R600a refrigerant.
The GE GNE27JSMSS refrigerator strikes a balance between usability and energy efficiency, offering the popular French-door style along with chilled, filtered water and an ice maker. The shelving is modular and flexible while allowing for a large amount of space, which will help your fridge run as efficiently as possible. In January 2020, GE will switch refrigerants from the potent greenhouse gas R134a to the much more benign and efficient R600a.
---
Among top-rated refrigerators, this is the most energy-efficient per cubic foot of usable space. And it's available today with the climate-friendly R600a refrigerant.
No other top-rated refrigerator can match the Samsung RT21M6213SG's energy efficiency per cubic foot of space. It has nearly as much usable space as a 3" wider French-door model, with deep produce drawers and door bins and a cavernous deli drawer. It's also quiet and uses the climate-friendly R600a refrigerant.
---
A basic, reliable fridge that still has some style, this 28" GE lets small kitchens store a lot of food while keeping your energy bill low.
The GE GTE18GTHWW refrigerator may seem like a throwback—it's available in plain white, after all—but its energy use is anything but, drawing less power than our other picks. Plus, it's the second most efficient per cubic foot of space. Starting in January 2020, GE will switch refrigerants at its factories, trading R134a for the climate-friendly R600a.
Why these are the most climate-friendly refrigerators
Refrigerators are among the most energy intensive appliances in our homes, so swapping out an old model for an energy-efficient one is an excellent way to lower your carbon footprint. In the last 20 years, refrigerators have reduced their energy usage by more than 50% while growing 20% in capacity. If you have an old fridge puttering along, it might be time to consider a new one.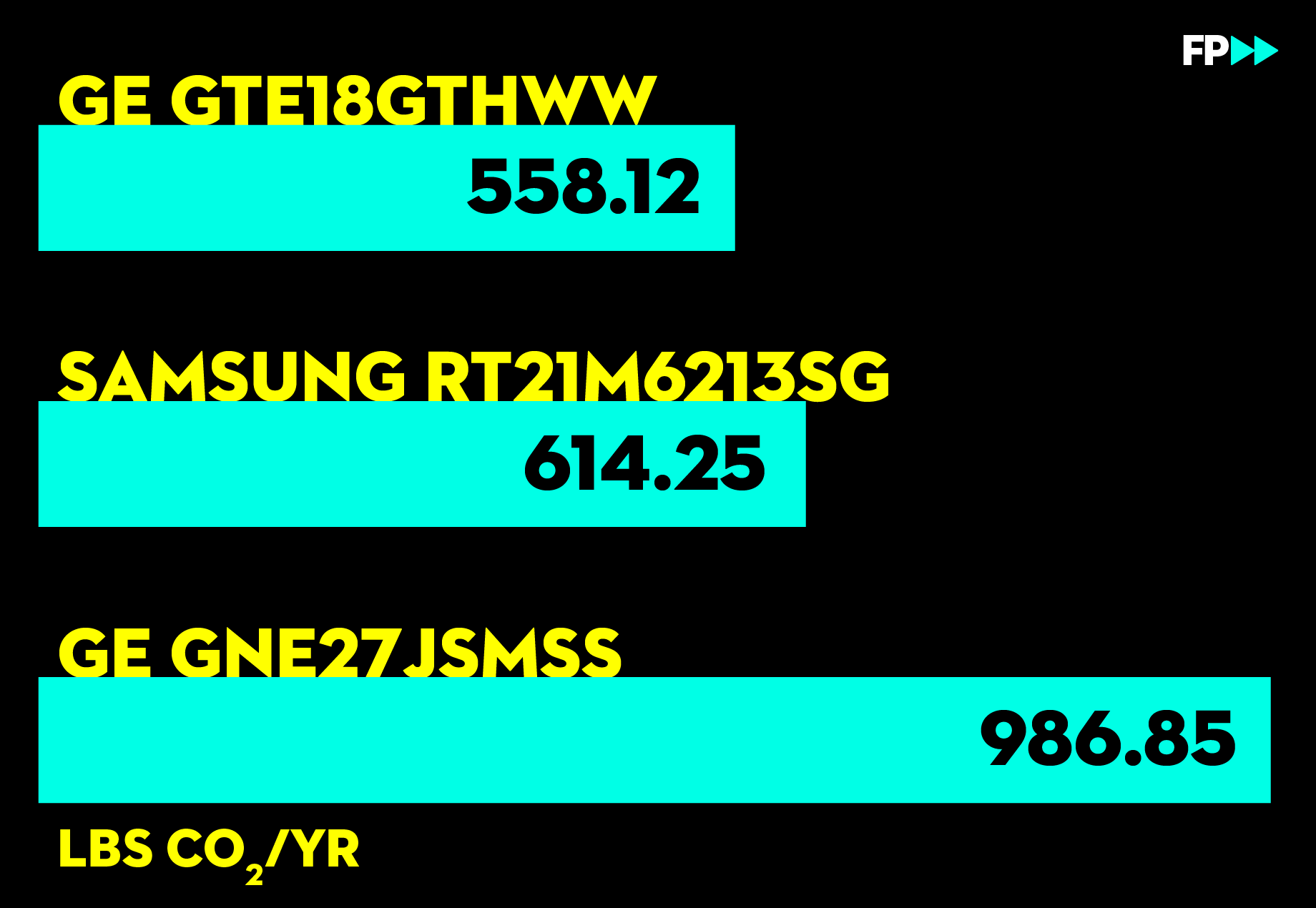 Energy use is just one climate impact to consider. The type of refrigerant it uses is another important one. Today, most refrigerators sold use R134a. It was introduced in the mid-1990s as a replacement for R-12, also known as Freon, which ate away at the ozone layer. But as R134a grew in usage, so did awareness of its potency as a greenhouse gas."The good news is there's no chlorine in the refrigerant, so there's no ozone depletion," said Douglas Reindl, a professor of engineering at the University of Wisconsin. "But the bad news is that it has a relatively high global warming potential." R134a is 1,430 times more potent than CO2.
So the refrigeration industry is once again on the cusp of another change, swapping R134a for refrigerants like R600a, which is only three times more potent than CO2.
While refrigerators don't leak much during their use, refrigerant is frequently lost during repairs or recycling. Buying a new fridge with a climate-friendly refrigerant like R600a won't just lower your carbon footprint today, it will lower your climate impact decades from now.
By January 2020, all of our top picks will be manufactured using R600a instead of R134a.
Methods and Results
Why trust us
In addition to the many dozens of hours spent researching refrigerators and refrigeration technologies, I spoke with experts on refrigeration, including Douglas Reindl, a professor of engineering at the University of Wisconsin and director of the Industrial Refrigeration Consortium, and representatives from GE, LG, and Samsung. Also, in my doctoral studies, I learned how different molecules, including the refrigerants mentioned here, create the greenhouse effect after they're released into the atmosphere.

Who should get this
We're guessing that you already have a refrigerator. Even if you don't own one personally (maybe you rent!), you're probably using one. It's pretty hard to live without one today.
A good refrigerator keeps your food fresh and cold for extended periods of time. It doesn't break down and leave you with spoiled food. And it should be reasonably quiet and very efficient.
An efficient refrigerator can pay dividends. The most obvious bonus is a lower electric bill—if your refrigerator is at least 20 years old, a new one will use 50% less power on average and store more food. It also means you'll have a slimmer carbon footprint.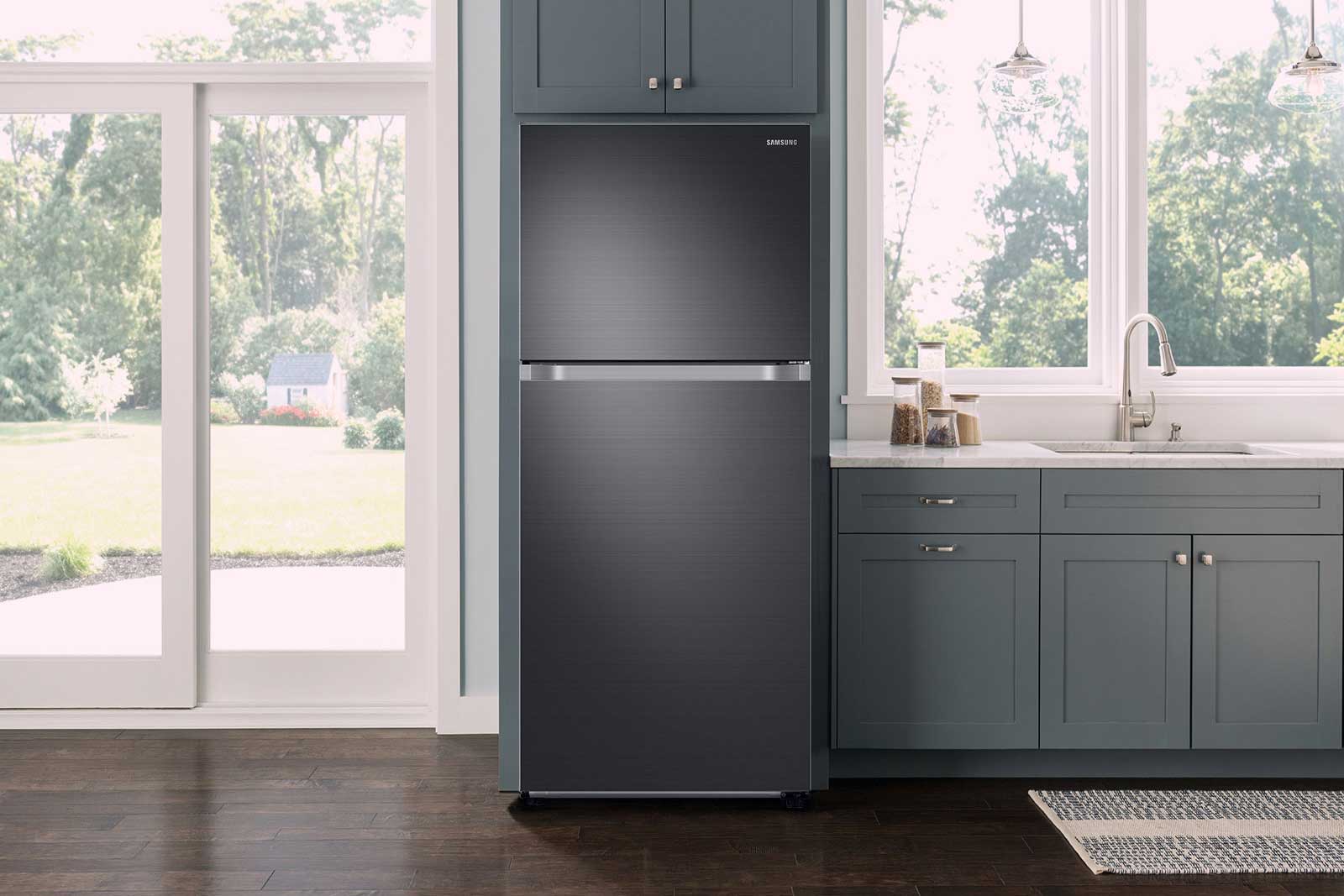 But efficiency is only part of the story with refrigerators—the other part is the refrigerants they use. New refrigerants offer greater energy efficiency while contributing less to global warming if they escape into the atmosphere, which some portion of them inevitably do. In fact, old refrigerants are such potent greenhouse gases that Project Drawdown, a nonprofit that prioritizes climate solutions, has listed "refrigerant management" as its number one priority. Since most of us can't personally verify that our refrigerators are properly handled during disposal, the next best option is to buy a fridge that uses a climate-friendly compressor gas.
If you're in the market for a new refrigerator, consider one of our top picks. They all use climate friendly refrigerants (or will very soon).
How we decided
Refrigerators are pretty standard affairs these days, so the differences between models are often in the details. Most are good at keeping a constant temperature, and most will operate trouble-free for years. Once you decide which size will fit in your kitchen, you can start considering which details are important to you.
In our research, we looked at the following criteria:
Energy efficiency: Since refrigerators can contribute to up to 25% of your total electricity bill, energy efficiency is top on our list.
Refrigerants: Many refrigerants used in household fridges are extremely potent greenhouse gases. Choosing a model with a climate-friendly refrigerant is one of the best things you can do to limit your footprint. Our top picks all use—or will soon use—R600a to keep things cool.
Reliability: We scoured Consumer Reports' and Yale Appliance's datasets on repair rates and reliability for different models and brands. We also gave a strong preference to models that didn't have through-the-door water and ice dispensers. These are frequently problematic, leading to high repair rates.
Space: A good refrigerator should offer the most space with the smallest footprint and the lowest electricity bill. For each size class, we optimized for energy use per cubic foot to make sure you will get the most out of your fridge.
Layout and flexibility: A fridge isn't very useful if it doesn't store your food easily. While most refrigerators these days have the basics—shelves, produce drawers, door bins—we considered how adaptable they would be to different size items. If you buy a large turkey for Thanksgiving, ideally you won't have to completely redo your fridge to accommodate it.
A quick note: We did not test the refrigerators mentioned here in a laboratory—we're not equipped for that yet. Rather, we spent hours (days, really) scouring the internet for reviews and information, talking with experts, and visiting showrooms to observe our top picks in physical form.
This is a great, energy-efficient French-door refrigerator, the most popular style right now. Those manufactured starting in January 2020 will use the climate-friendly R600a refrigerant.
Why we like it
The GE GNE27JSMSS is a solid, well-reviewed refrigerator that ticks most boxes for most people. It has French doors, comes in stainless steel, and neatly fits in a 36" wide slot. It's also well reviewed by consumers and pros.
Though dozens of other refrigerators that we considered in this size class have more claimed capacity, Consumer Reports found that its 21 cubic feet of usable capacity beats them all. The extra space may seem like a luxury, but in the refrigerator compartment, it can also enhance the compressor's efficiency. A fully packed fridge won't be able to circulate air as easily, which will have the compressor working overtime to keep things chilled. A little room between foodstuffs can lighten the load.
The freezer compartment works the opposite way—in part because it's not opened as often—and the food that is placed inside is frequently already frozen. Full drawers help keep temps low, and in the GNE27JSMSS, the single compartment and dual drawers allow things to be packed tightly but remain relatively accessible.
The shelving is easily adjustable, and one slides back if you need space to store tall items. The door bins can easily handle gallons of milk, and there are smaller bins at the bottom of the doors that are perfect for condiments.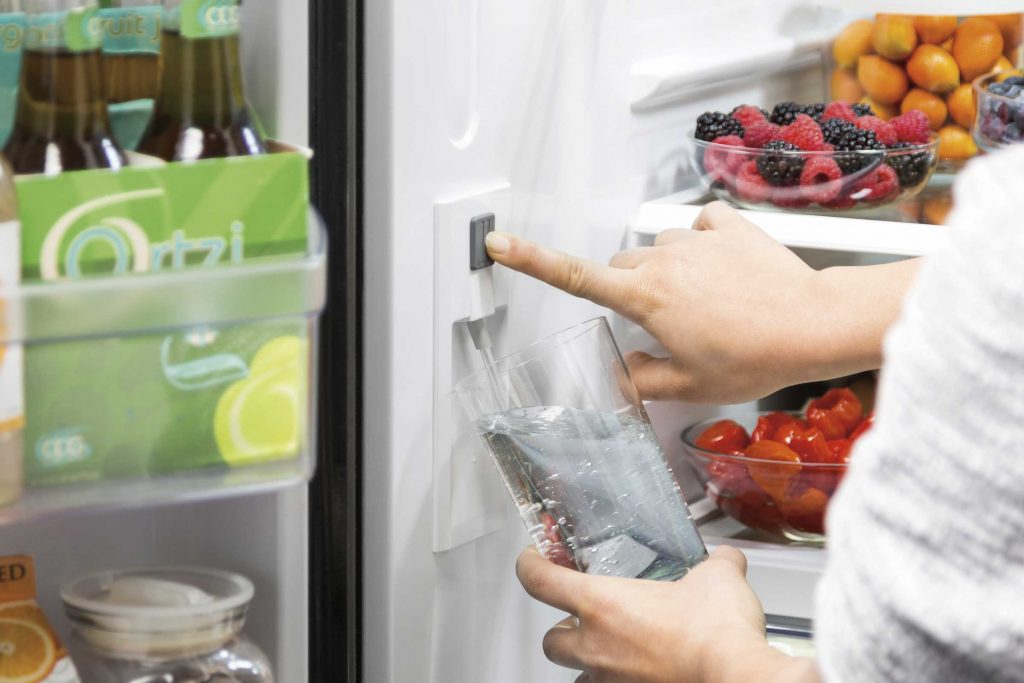 By keeping the ice maker in the freezer compartment and moving the water dispenser to the inside left wall, GE has freed up the refrigerator compartment for food. (The water filter impinges on the top shelf, but only a little.) Many other French door fridges place the water and ice dispensers in the door which significantly reduces the usable storage up top. The dispenser also creates a hole in the insulation, increasing energy use. Plus, models with door dispensers are often at least $500 more expensive.
On the outside, the GNE27JSMSS's unmarred stainless steel shell and understated handles are tasteful and unobtrusive.
Why you can feel good about it
In both of our energy efficiency measures, the GE GNE27JSMSS was among the best. It beat all other 36" refrigerators for energy use per cubic foot of usable storage, and it was second in energy use per cubic foot of claimed storage, losing out only to its larger sibling, the GE GNE29GSKSS.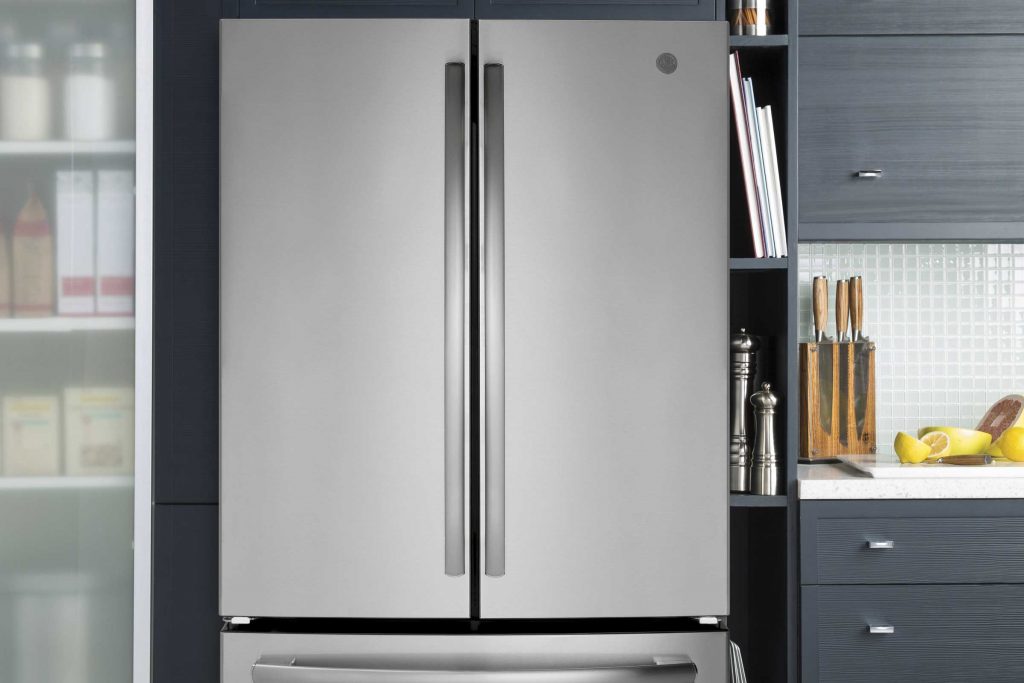 In a typical year of use, the electricity used by the GNE27JSMSS will produce 987 pounds of CO2 and around 9,870 pounds over its expected 10 year lifespan. Perhaps more important, the fridge will soon use R600a, a refrigerant with a low global warming potential. Fridges in this size class use around 170 grams of R134a, which if released would produce the same amount of global warming as 530 pounds of CO2. With R600a, that drops to about 0.4 pounds.
Who else likes it
The GE GNE27JSMSS is well received by pros and consumers alike. Consumer Reports says it has "excellent energy efficiency." At Home Depot, over 850 reviewers gave it an average of 4.5 stars out of 5, with 91% saying they recommend the fridge. Even more revealing, the score distribution there is heavily skewed, with the vast majority of reviewers rating it 4 or more stars.
What could be improved
We don't have any major criticisms of the GE GNE27JSMSS, just small nitpicks. For one, the drawers don't glide like some other models we researched, though that's something that you'll probably notice at first and then quickly forget about in daily use. We'd also like to see more than one shelf that can slide in and out to give space for taller items.

Among top-rated refrigerators, this is the most energy-efficient per cubic foot of usable space. And it's available today with the climate-friendly R600a refrigerant.
Why we like it
The Samsung RT21M6213SG is an excellent refrigerator for people who prefer a classic top-freezer design. For its size class, it's surprisingly spacious. The produce drawers are large and the door bins are deep. It has a door alarm—not something you typically find in a top-freezer model. Plus, there's a traditional butter compartment on the door.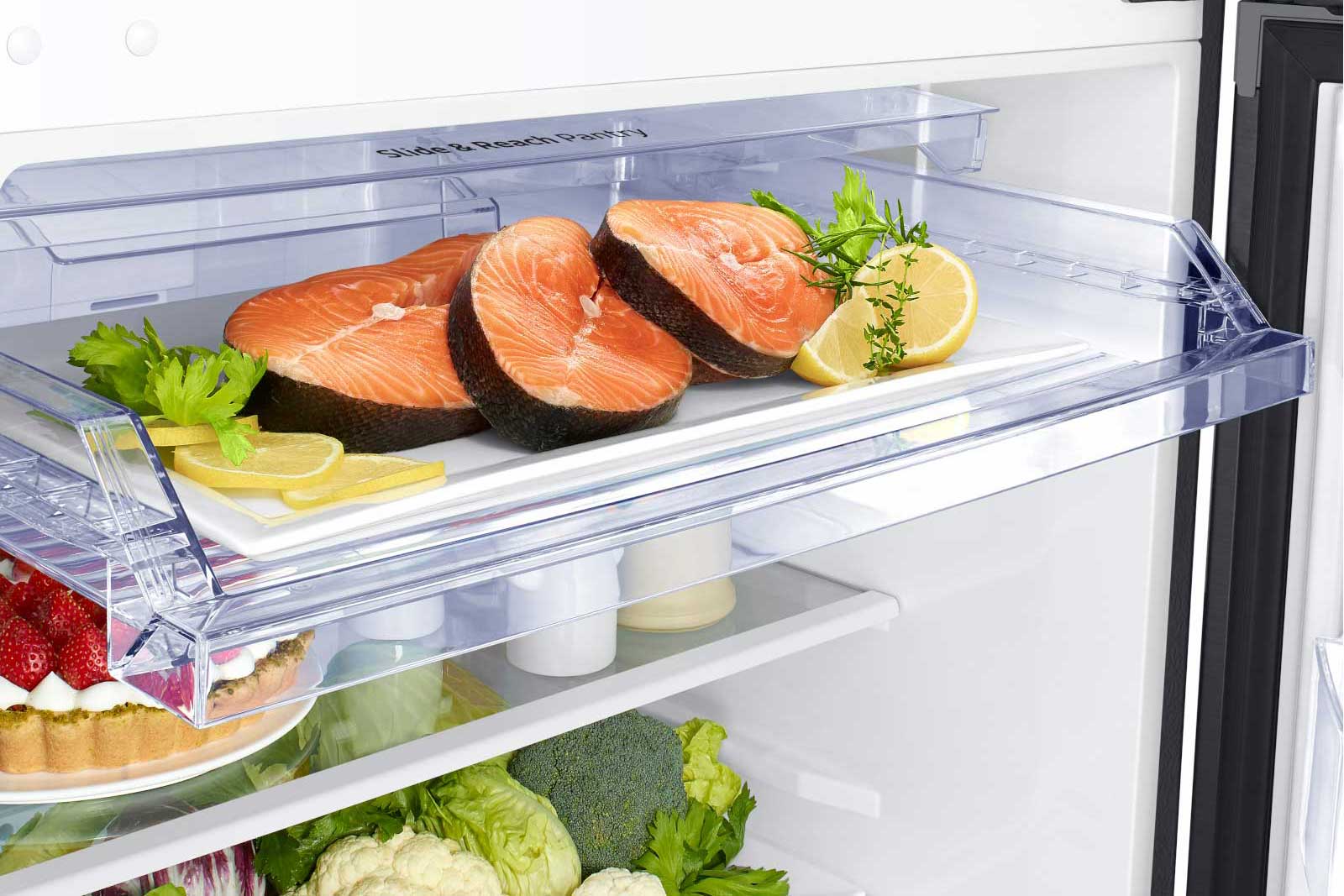 If you don't use the freezer that much—or if you have a dedicated freezer in elsewhere in your home—you can set the top compartment to refrigerate rather than freeze your foods, giving you another 5.2 cubic feet of usable space. That's a 35% bonus. Just don't plan on switching it all that often—if you do have frozen foods in there, you'll have to find somewhere to stash them while it's in refrigerator mode.
To top it off, the RT21M6213SG is a sleek fridge. There's no handle to interrupt its simple lines, and you can buy it in white, stainless steel, and a black stainless steel to match the rest of your kitchen.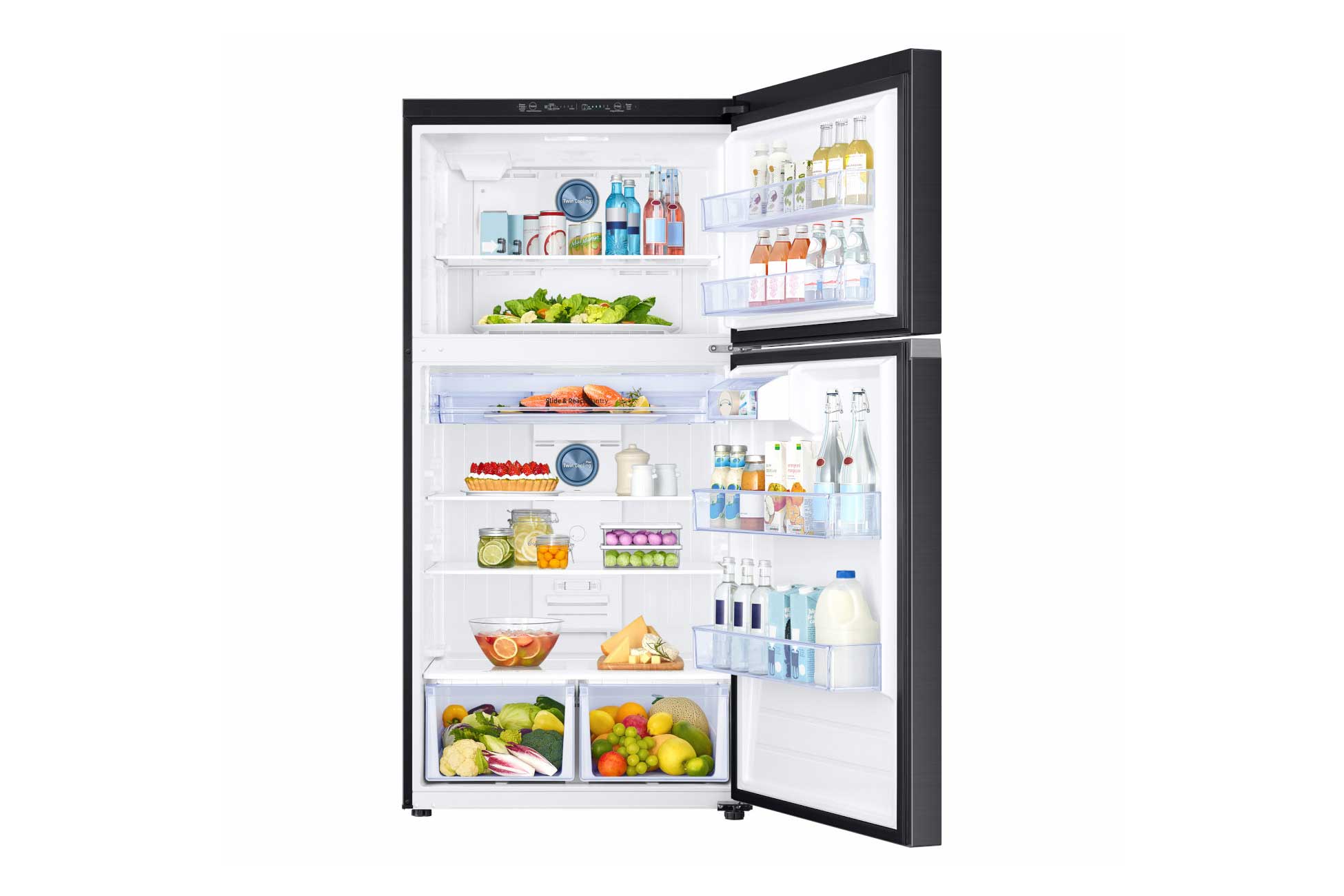 Why you can feel good about it
Of the dozens of models we researched, the Samsung RT21M6213SG is by far the most efficient refrigerator per cubic foot of space. It wasn't even close. In one year, it will produce 614 pounds of CO2, just a little more than fridges with far less usable storage space. Plus, it uses the climate-friendly R600a refrigerant.
Who else likes it
The Samsung RT21M6213SG made Consumer Reports' recommended list with "very good" noise levels and thermostat control, and they said it had "excellent" energy efficiency. Reviewed.com said, "the fridge utilizes space very well, and we loved the deli drawer location at the top of the refrigerator section." At Home Depot, reviewers give the model 4.3 stars out of 5 with 86% of them recommending it to others.
What could be improved
It's uncommon, if not unheard of, for refrigerators of this size to have split shelves. Still, that won't stop us from hoping that Samsung's next revision to the model includes them. People who buy fridges like this typically can't buy the more expensive models with split shelves—they simply don't have room in their kitchens. We think Samsung should consider including at least one.
And while the full-width deli drawer stores a lot, the door needs to be open nearly 90˚ before you can pull it out. While the drawer is wide, it does have a notch in the back to clear the cooling stack. It's not a terrible loss, but it does limit the drawer's uses.
Lastly, keep an eye on the manufactured date of the refrigerator. In reviews left two or more years ago, people on a number of different retailers' sites reported trouble keeping the refrigerator compartment cold. That problem doesn't appear nearly as often in more recent reviews, so it appears that Samsung fixed the issue.
A basic, reliable fridge that still has some style, this 28" GE lets small kitchens store a lot of food while keeping your energy bill low.
Why we like it
The GE GTE18GTHWW is an excellent top-freezer refrigerator that fits both small kitchens and tight budgets. It comes in five different finishes, including white, black, and stainless steel (though expect to pay more for stainless), and it will swallow a week's worth of food for a small family.
The layout is time-tested, with one small and two large bins in the door, three shelves, two deep produce bins, one half-width deli drawer, and a butter compartment. The fridge and freezer door handles are neatly aligned, and there's not much else to disrupt the clean design. If you want a basic refrigerator, this is it.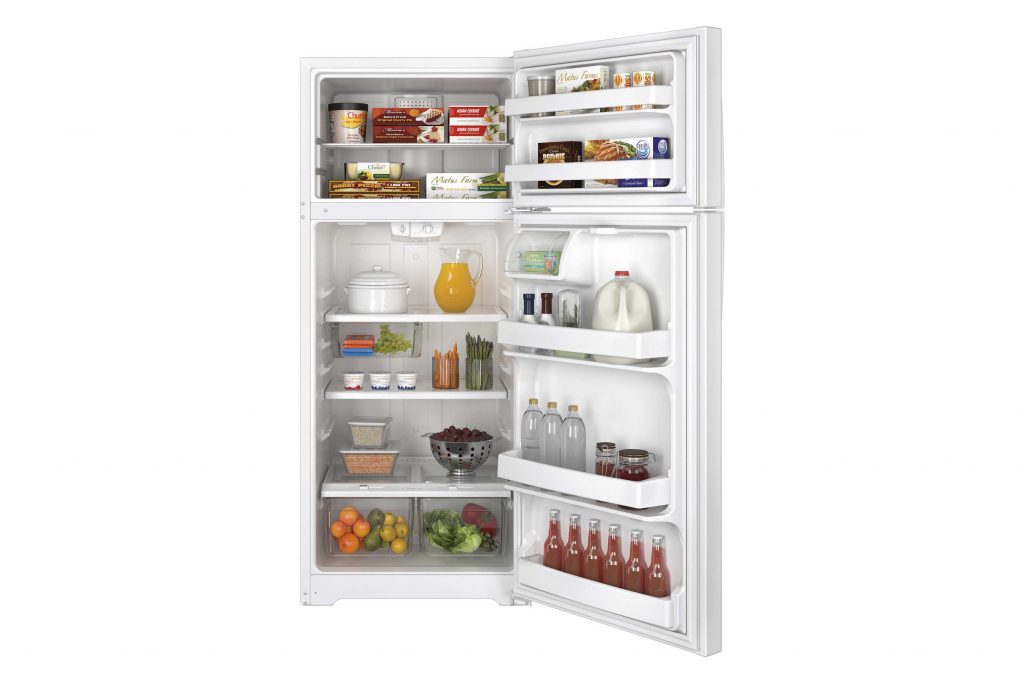 Why you can feel good about it
It should be a given that a small fridge will use less energy than a large one, but the GE GTE18GTHWW beat the competition by a wide margin, including other small refrigerators. That leads to a low carbon footprint of 558 pounds per year of CO2. Starting in January 2020, GE will be manufacturing all of its refrigerators using the climate friendly R600a refrigerant, further reducing the fridge's lifetime climate impact.
Who else likes it
The folks at The Wirecutter like the GE GTE18GTHWW, and they also made it their budget pick, saying, "it feels sturdier than many similar fridges." More than 2,200 reviewers at Home Depot gave it an average of 4.3 stars, with 87% recommending the model.
What could be improved
As an inexpensive refrigerator, GE cut a few corners to make the price. Only two shelves are adjustable, and they're full-width. The door handles can change sides, which is good, but it means a plastic plug on the non-handle side. It's a common solution, but it's not as elegant looking as the handleless Samsung RT21M6213SG that we recommend above.

The competition
There are dozens and dozens of refrigerators out there, and most of them are fine. We zeroed in on our picks because they're well-reviewed, solidly built, and energy efficient. Some models that we discarded are also well-reviewed and solidly built, but not nearly as energy efficient.
The Whirlpool WRF535SMHZ is one of those models. The Wirecutter recommends it if you're looking for a 36" French-door model, but its capacity is lower than our top pick, it uses more power, and it still uses the refrigerant R134a.
Nearly all of Consumer Reports' recommended French-door models, like the LG LFXS32766S, Kenmore Elite 74113, and the Samsung RF28HDEDPWW, have door-mounted ice and water dispensers. Not only do these take up space in the refrigerator compartment, they create a hole in the door's insulation, decreasing the unit's energy efficiency and increasing its carbon footprint. In our opinion, it's not too hard to open the door to grab some ice or filtered water.
What else we discovered
Freon, the trade name that's commonly used for the refrigerant R12, has a long history. Though chlorofluorocarbons were first synthesized in the 1890s, it wasn't until the late 1920s that chemists and engineers realized they could be used as refrigerants. At the time, refrigerators were cooled using sulfur dioxide, a toxic gas also released by volcanoes. The head of research at General Motors wanted a safer refrigerant, and he tasked a team lead by Thomas Midgley, Jr. to find one. They landed on dichlorodifluoromethane, also known as R12. The CFC would be used in millions of car air conditioners and home refrigerators. Frigidaire was the first—at the time, it was owned by GM.
Since then, the technology behind refrigerators hasn't changed much. They still operate by compressing and expanding a gas to transfer heat out of the compartment. A few years ago, though, GE announced that they had improved on an old technique known as magnetocaloric refrigeration. It had the potential to be more efficient, and the company promised to commercialize the technology by 2020. In the years since, other researchers and organizations have made similar efficiency claims. So what happened to it?
In the lab, magnetic refrigerators make for impressive demos. But currently, Reindl said, "their efficiency isn't great." There are other practical considerations, too. To cool a household refrigerator, you would need massive magnets. Reindl recalled walking into an early lab where they were testing magnetocaloric refrigeration, and before the researchers would demo the prototype, they had him place his wallet in a special box so his credit cards wouldn't be wiped. Needless to say, the technology has some hurdles to overcome before it lands in our homes.
Notes
We calculate carbon footprint of energy use according to the most recent data from the U.S. Environmental Protection Agency. Their models say that every kWh of electricity produces 1.559 pounds of CO2.
Sources
Giunta, Carmen. "Thomas Midgley, Jr., and the Invention of Chlorofluorocarbon Refrigerants: It Ain't Necessarily So." Bulletin for the History of Chemistry 31(2): 66-74, 2006.
McCabe, Liam, Michelle Ma, and Kori Perten. "The Best Refrigerators." The Wirecutter, June 19, 2019.
Reindl, Douglas. Phone interview. October 1, 2019.
Reviewed staff. "Best Stainless Steel Fridges Under $2,000 of 2019." reviewed.com, September 24, 2019.